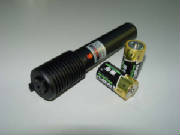 Introducing our most powerfull handheld Portable Laser systems. These lasers can be used in many applications such as - Laser Light Shows, Special effects in Movie Industry, Constelation Astronomical Star Pointer, Military Uses, University Labs and the Medical Sector. This is a Green 532nm Laser Module that has a very visible Beam. This System is available in 50mW-100mW-150mW and awesome 320-350mW!! You will not find these unique lasers anywhere on the internet.
This is not a Laser pointer and never should be used as one!! This Laser has the potential of inflicting real Bodily harm and should not be used in a harmful way. We are in no way responsible for the use of our products. It is the Customers responsibility for Safe usage of our devices. It is a crime to point lasers at people and at Air planes and there are serious ramifications that will result if you do.
This Laser works on only 2 C Batteries - No power cord to fumble around with, it's totally Portable!