Ultra Long Range Cordless SN-358 10-15Km **
We accept Secure Paypal


Code: SN-358Plus
Introducing Our SN-358Plus Ultra Long Range Cordless Telephone System.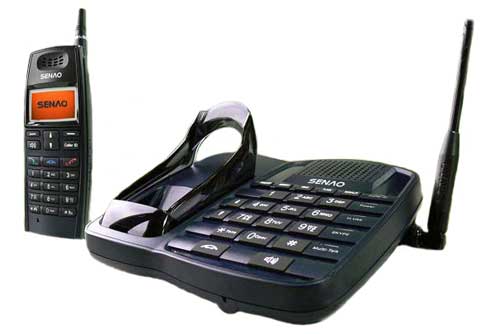 Our Senao SN-358 LRCT system is 100km Capable.
This is the Smallest System that we have that reaches out to 100km (Only when used with optional Amplifiers). This system includes many great features such as High Grade Military Scrambler which Protects your Conversations. This system makes it impossible for Eavedropping.
Main Features:
*Multi-channel access auto-scan.
*Multi-handset system (up to 99).
*Walkie-talkie between handsets. Handset with speakerphone function.
*Base speakerphone with dial keypad.
*Two-way paging and hands free intercom.
*30 Caller ID memory with Time/Date (FSK&DTMF type).
*50 Phone book memory with name/number on each handset.
*Last 10 calls redial on handset.
*20 memory dial on base unit.
*Base unit with last number redial.
*Backlit LCD and handset keypad.
*Tone/Pulse dialing mode selectable.
*Change channel during Conversation.
*65,536 sets security codes (two-way).
*Flash time programmable.
*Ring volume adjustable for both handset and base.
*Voice volume adjustable for both and base.
*Music on hold. Handset with power saving function.
*Low battery alert and display.
*Built-in voice security circuit (Scrambler).
*Auto answer and auto hang up.
*Transfer calls between handsets and base.
*Out-of-range alert.
*Battery charge indicator. Fast charge.
*Selectable ring Tone on handset (15 melody).

*Adjustable Keypad volume on Handset.
*Real time clock on handset.
*Auto power control designed.
*Multi-language display in scrambler.
*Auto detection of FSK and DTMF ID signal.
SPECIFICATIONS

Base

Handset

Transmitter

Frequency

394 MHz

268 MHz

Output Power

1 W

450 mW

Spurious Emission

55 dBc

55 dBc

Current Consumption

Stand By

160 mA

5 ~ 10 mA

Talk

600 mA

350 mA

Receiver

Frequency

268 MHz

394 MHz

Sensitivity at 12dB SINAD (CCITT)

-122 dBm

-122 dBm

Adjacent Channel Rejection

50 dBc

50 dBc

Spurious Response

55 dBc

55 dBc

Power Source

AC 110V/60Hz AC 220V/50Hz DC 12V

3.6V/650mAH NiMH Battery

Dimension

W x D x H (mm) 172 x 158 x 93

L x W x H (mm) 130 x 48 x 30

Weight

470 g

176 g